Espin Nero
Updated: September, 2023
Picture this: you're cruising through the city streets at dusk, the cool breeze against your face as the sun begins to set. The cityscape is illuminated by the soft glow of the LED headlights on your eBike. You effortlessly navigate through traffic, thanks to the thumb throttle that gives you complete control over your ride. This is the experience you can expect with the Espin Nero. At Ride Review, we've scoured the web to bring you the best reviews and specs of the Espin Nero so you can make an informed decision. Let's dive in. One of the standout features of the Nero is its lightweight yet sustainable aluminum frame. Weighing in at just the right balance, this bike is both easy to handle and eco-friendly. It's a winning combination for those who value efficiency and sustainability. The Nero's One Size Concept is also worth mentioning. Designed to accommodate riders of most ages and heights, you won't have to worry about finding the perfect fit. And don't be fooled by its lightweight frame – the Nero can support a maximum of 300lbs, thanks to its durable construction. If you're looking to take your Nero off the beaten path, you're in luck. Its large tires with excellent grip make it ideal for tackling unpaved trails. Plus, with mudguards, a rear carrier, and a stable kickstand, this bike is ready for whatever adventure awaits. Safety is a top priority with the Nero. With integrated LED headlights and mudguard rear light, you can confidently ride at night. And if you need to lock up your bike, the locking removable battery pack and fenders provide added security. Power-wise, the Nero packs a punch with its 750-watt nominal/1000 peak output motor. Whether you're navigating busy city streets or conquering steep hills, this eBike has got you covered. And with its 26-inch wheels, the Nero offers a great turning radius, making it a versatile companion for city riding. Now, let's address some of the drawbacks. The Nero is not foldable, so if you're looking for a bike that can easily be stowed away, this may not be the best option for you. Additionally, some users have noted that the display is relatively simple for a bike in this price range. Lastly, it's important to mention that the Nero is only available in one frame size, so if you fall outside of the average range, you may need to explore other options. In summary, the Espin Nero offers stellar comfort, speed, and power in one fun-to-ride eBike. While it may have a few limitations, it's a reliable and stylish choice that won't break the bank. So why wait? Hop on the Nero and experience the joys of micromobility for yourself. Ride on!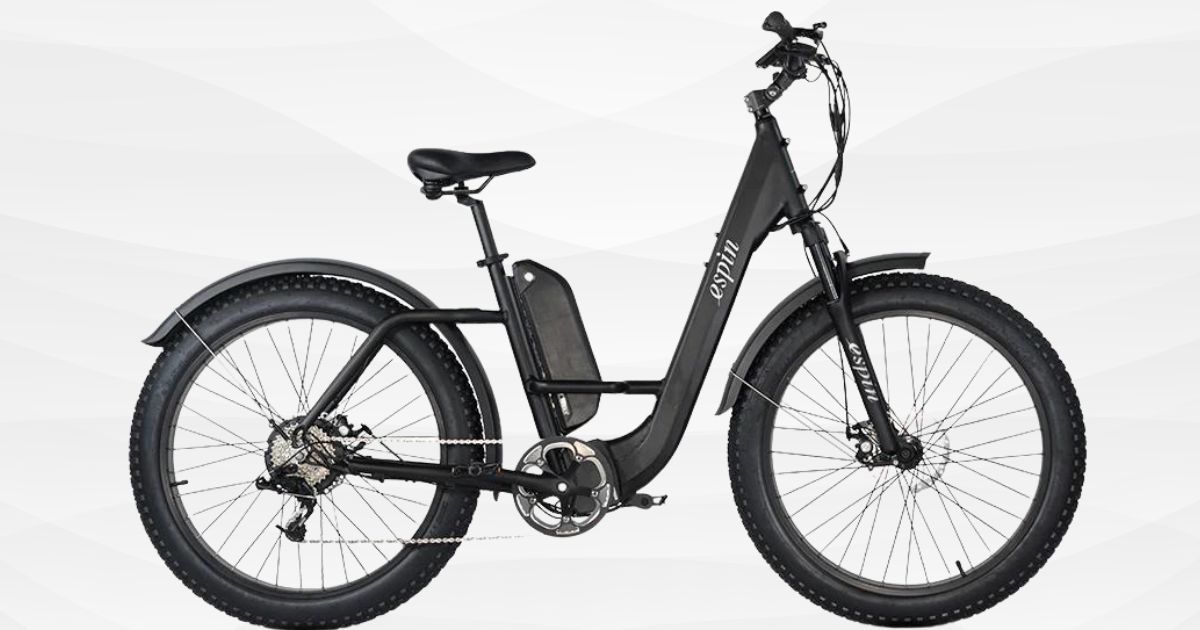 ---
11 Reasons to Buy the Espin Nero
The Espin Nero comes with a thumb throttle for efficient handling.
Since it's made of aluminum, the bike is extremely lightweight yet sustainable.
Nero boasts a One Size Concept, which allows people of most ages and heights to rid.
The Nero can support a maximum of 300lbs due to its durable frame.
With large tires that have great grip, it is best for unpaved trails.
The bike has mudguards (including a Mudguard Rear Light PRO-E), a rear carrier, and a stable kickstand.
The Nero comes as front carrier ready.
With the LED headlights, you can easily ride it at night.
It comes with Locking Removable Battery Pack & Fenders.
Due to the 750-watt nominal/1000 peak output, the bike can be used for riding in almost all urban places. This motor allows it to reach speeds of 3 classes.
The bike has a great turning radius due to its 26-inch wheels, making it the perfect companion for city riding.
3 Reasons Not to Buy the Espin Nero
The bike is not foldable.
The display is quite simple for a bike that costs that much.
It is available in only one frame size.
---
Bottom Line
The Espin Nero is one of the best entries by Espin in the world bikes. Not only does it look promising, but its durable frame and impressive battery timings, along with adjustable length, efficient, space-saving size, and innovative mechanisms, make it a contender for the best e-bikes around. The only downside is that it is not foldable. But if it isn't a priority, then Espin Nero is the way to go.
Reviews
Reviews of the Espin Nero
Espin 21 Nero Electric Bike - Gregg M.
"Nero changed our lives."
Subscribe to Ride Review
Sign up for free for the Ride Review Newsletter - the world's largest newsletter about small electric vehicles - and have chances to win our electric bike and scooter giveaways. Trusted by over 60,000 riders around the world.
No, thank you.