Sena R1 EVO Smart Communications Cycling Helmet
Updated: September, 2023
If you've ever tried to communicate with your fellow cyclists while out on a ride, you know how difficult it can be. Shouting over the wind, traffic, and distance can be both frustrating and dangerous. That's why we at Ride Review were thrilled to discover the Sena R1 EVO Smart Communications Cycling Helmet. One of the standout features of the R1 EVO is its built-in speakers and microphone. This means that you can effortlessly communicate with your friends without having to yell or use hand gestures. Simply connect your helmet to your smartphone via Bluetooth, and you'll be able to make calls, listen to music, or even connect to Sena's dedicated cycling app. But it doesn't stop there. The R1 EVO is also equipped with Sena's Mesh 2.0 technology, which allows for a 900-meter range and the ability to add unlimited riders virtually. This makes group rides a breeze, as you can easily stay connected with your cycling buddies no matter the distance between you. In terms of convenience and safety, the R1 EVO doesn't disappoint. It features a removable visor to protect your eyes from the sun or rain, as well as a built-in tail light for increased visibility on the road. The adjustable side straps and rear dial make it easy to achieve the perfect fit, even while on the move. And with its soft nylon chin strap, you can trust that the helmet will stay securely in place throughout your ride. While there are a few downsides to consider, such as the absence of MIPS or WaveCel technology for enhanced impact protection, the R1 EVO is still a solid choice for cyclists looking to improve their communication on the road. Some users have reported difficulties with Android phone connectivity and occasional lag with voice commands, but overall, the helmet has received positive feedback for its audio capabilities. With its competitive price point of $159, the Sena R1 EVO Smart Communications Cycling Helmet offers an excellent value for cyclists seeking an easier and safer way to communicate while out on the road. Say goodbye to shouting and hand gestures, and say hello to seamless communication with this innovative helmet.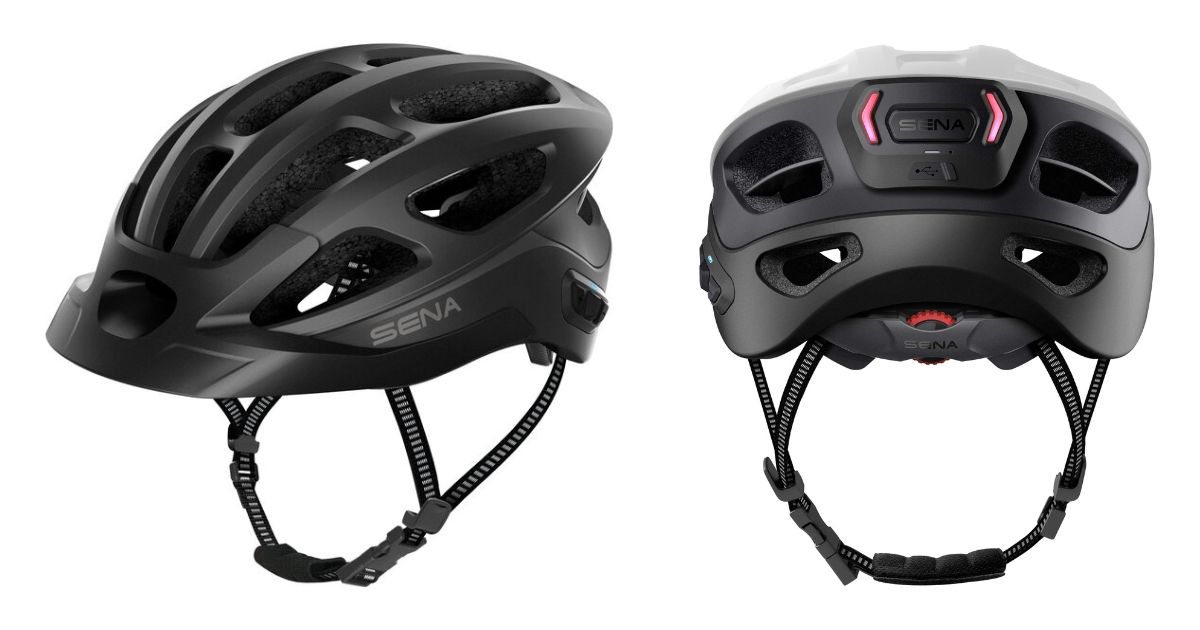 ---
7 Reasons to Buy the Sena R1 EVO Cycling Helmet
Built-in speakers and a mic.
Bluetooth connectivity for music, calls, or to connect to Sena's cycling app.
Mesh 2.0 keeps the 900-meter range and lets you add unlimited riders virtually.
The removable visor and a built-in tail light for visibility.
Adjustable side straps.
The rear dial allows for quick adjustments while on the move.
Soft nylon chin strap that keeps the helmet secure.
3 Reasons Not to Buy the Sena R1 EVO Cycling Helmet
It doesn't have MIPS or WaveCel.
Complicated connectivity with Android phones.
Voice commands can lag sometimes.
---
Bottom Line
From intercom technology to quiet speakers, the Sena R1 EVO is sure to please. It's a great choice for anyone who spends a lot of time on their bike and needs an easy-to-use, built-in communication system.
Reviews
Reviews of the Sena R1 EVO Smart Communications Cycling Helmet
Sena R1 EVO Helmet Review | Excellent for Electric Bikes - Publishing Team
This helmet allows you to communicate with ease with built-in audio. No shouting or hand gestures required.
SENA R1 EVO HELMET - Publishing Team
If you ride with friends, the R1 EVO is an outstanding way to communicate without yelling.
Subscribe to Ride Review
Sign up for free for the Ride Review Newsletter - the world's largest newsletter about small electric vehicles - and have chances to win our electric bike and scooter giveaways. Trusted by over 60,000 riders around the world.
No, thank you.