From bikes and trikes to scooters and skateboards, the global presence of micromobility options is rapidly growing, and people are starting to catch on. With innovative technology popping up everywhere, it's hard to guess what will be next, but today, we don't have to.
Entering the electric bike field with a strong start is California-based manufacturer Mokwheel and the all new Basalt, the world's first all-terrain electric bike with integrated power station technology.
The Basalt's integrated power station allows users to channel the 48 V 750W brushless rear hub motor's power to charge their devices whenever they want. The Inverter has a peak output of 1,000W which can keep devices fully charged at all times, an incredibly useful feature for long journeys outdoors. To accommodate a variety of devices, the Basalt comes equipped with multiple socket charging ports like a DC port, AC wall outlets, Type-C, and USB.
Now let's get into the specs. The Basalt offers an impressive range of 60-80 miles (96.5-128.7 km) and reaches a top speed of 28 mph (45 kph), coupled with 5 levels of pedal assist. The bike is well equipped for rough terrain coming with built-in torque sensors and a flexible hydraulic front fork to absorb bumps. The front suspension fork is adjustable and can be stiffened or softened depending on rider weight and riding style. It's also fitted with a 7-speed Shimano gear system, a Samsung battery, and an integrated LED display.
Some minor drawbacks to the model may be its size, weighing in at a hefty 79 lbs (35.8 kg). Some users also indicated that button responsiveness could be improved.
Overall, the Mokwheel Basalt is a versatile, efficient, high value ride. Its range of uses from mountain trails to urban commutes combined with its adjustable features make it suitable for an assortment of riders. The bike offers high quality aesthetics and durability with its sleek design and step-over frame and has the power to handle tough climbs. The Basalt offers great value for money and a smooth ride with excellent torque. Lastly, the integrated power station allows users to always keep their devices charged and the range of up to 80 miles eases range anxiety.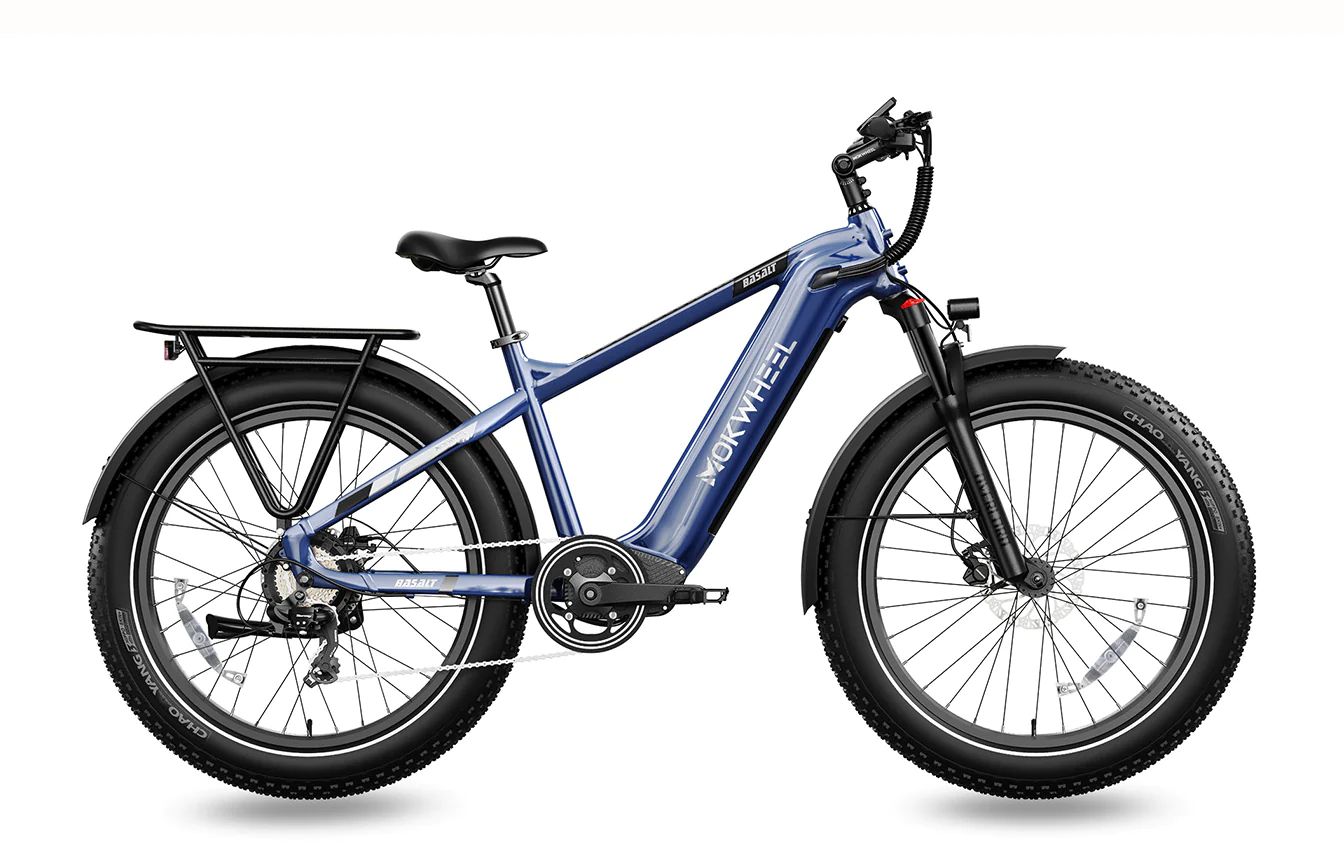 What other reviewers are saying
19 Reasons to Buy the Mokwheel Basalt
High-quality aesthetics
Commendable specifications
Easy-to-use e-bike
750-watt hub motor with a top speed of 28 mph
5 levels of pedal assist
Samsung battery cells offering 60-80 miles per charge
Rear hydraulic brakes
7-speed Shimano gears
Integrated charging station
Thumb throttle
LED screen
All-terrain capability
Ability to carry up to 400lbs
Impressive performance in hill and speed tests
Value for money
Good design
Smooth ride with great torque
Range of 60-80 miles on a single charge
Massive 941-watt-hour battery
3 Reasons Not to Buy the Mokwheel Basalt
Weight might be a drawback for some riders
Button responsiveness might be a drawback for some riders
Minor personal preferences and improvements needed
Bottom Line
The Mokwheel Basalt is a high-quality and easy-to-use e-bike that provides impressive performance and great value for its price. With its sleek design, powerful 750-watt motor, and Samsung battery cells, it offers a smooth and all-terrain ride with a range of 60-80 miles on a single charge. Although it may be a bit heavier for some riders and has some minor improvements needed, the Basalt delivers on its promises and is a great option for anyone looking for a reliable and capable micromobility vehicle.