Fonz NKD
Updated: September, 2023
Let me start by telling you a story about my first ride on the Fonz NKD. I had just moved to a new city and was looking for the perfect micromobility vehicle to navigate the bustling streets. After hours of research, I stumbled upon the Fonz NKD. Intrigued by its unique design and impressive features, I knew I had to give it a try. As I hopped onto the Fonz NKD for the first time, I couldn't help but be amazed by its precision handling and smooth acceleration. It effortlessly glided through the city, allowing me to weave through traffic with ease. The powerful motor combined with its lightweight construction made each ride an adrenaline-filled adventure. One of the standout features of the Fonz NKD is its regenerative braking system. This innovative technology not only enhances the braking efficiency but also helps to extend the range of the vehicle. Speaking of range, the Fonz NKD boasts an impressive battery life, allowing for longer rides without worrying about running out of power. And with the onboard charger and quick-charging battery pack, recharging is a breeze. The Fonz NKD is not only practical but also customizable. With options to suit specific power and storage needs, you can personalize your ride to fit your lifestyle. Whether you're using it for daily commuting or embarking on camping trips, the Fonz NKD is up for the challenge. Now, let's address the elephant in the room - the tires. Some reviews have mentioned that the tires are sourced from a third party and the quality can be variable. While this may be a concern for some, it's important to note that the overall performance of the Fonz NKD is not compromised by this. Another minor drawback is the quality of the LED display. Some users have reported that it falls short in terms of quality, but this is a small trade-off considering the exceptional performance of the vehicle. Lastly, it's worth mentioning that the Fonz NKD features exposed wiring in the body. While this is completely safe and poses no harm, it may not suit everyone's aesthetic preferences. In conclusion, the Fonz NKD is a remarkable midi-sized hybrid scooter/motorcycle that delivers on performance, range, and customization. Its precision handling, quick acceleration, and regenerative braking system make it a joy to ride. And with its affordable price point and great manufacturer warranty, it's an excellent entry-level option for those looking to delve into the world of eBikes.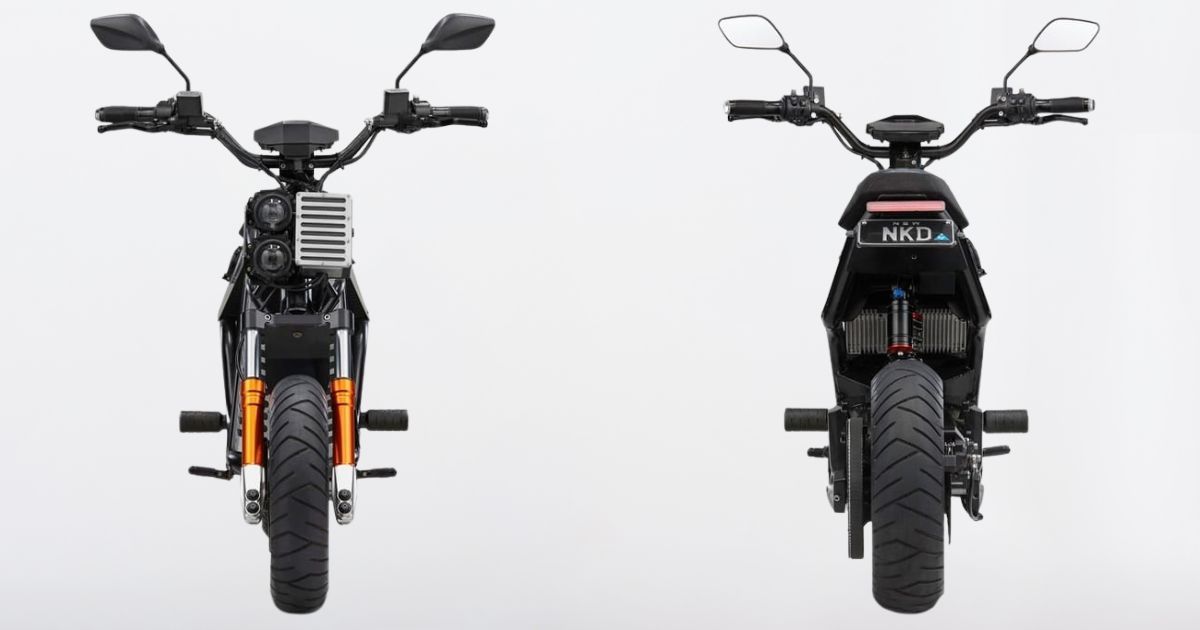 ---
10 Reasons to Buy the Fonz NKD
Entry level affordability
Good range
Regenerative braking system
Onboard charger
Precision disc brakes
Quick charging battery pack
Precision handling
Customizable options to suit specific power and storage needs
Great acceleration
Great manufacturer warranty
3 Reasons Not to Buy the Fonz NKD
Tires are sourced from 3rd party and quality can be variable
Poor-quality LED display
Exposed wiring in the body, while safe, the aesthetic won't suit everyone
---
Bottom Line
While the NKD is a fast and fun urban commuter, it suffers from some design aesthetic issues which may not suit everyone. Given that the 2-wheeled EV market is incredibly crowded you may want to skip this entry unless you're drawn to the look or manufacturer.
Reviews
Reviews of the Fonz NKD
VIDEO REVIEW: FONZARELLI NKD ELECTRIC MOTORCYCLE - Jeff Ware
The[ Fonzarelli](http://fonzarelli.co) NKD electric bike is a mini dual-sport machine capable of anything from daily commuting to camping trips out in the bush.
Fonz NKDs electric bike review - Mark Hinchliffe
The name of this Australian electric midi-bike may reference the star of a classic US sitcom set in the '50s, but this is a thoroughly 21st-century machine.