Kugoo Kirin M4 Pro
Updated: September, 2023
If you're looking for a budget electric scooter that doesn't compromise on performance, the Kugoo Kirin M4 Pro might just be the one for you. As I scoured through numerous reviews, I found that the Kugoo M4 Pro consistently impressed riders with its unmatched features and overall value for money. One feature that stood out was the M4 Pro's impressive range. Riders were able to travel long distances without worrying about running out of battery. With its great max speed, users were thrilled with the exhilarating experience this scooter provided, making it both practical and fun. Additionally, the optional seat added an extra level of comfort for those who prefer to sit while cruising. The Kugoo Kirin M4 Pro also boasts a convenient folding mechanism, allowing users to easily collapse the scooter into a compact structure for easy storage or transportation. This feature received high praise from reviewers who appreciated the portability and versatility it offered. Safety is always a top concern when it comes to electric scooters, and the Kugoo M4 Pro delivers in this aspect as well. Riders were impressed with the exceptional braking mechanism, providing them with a sense of control and confidence while riding. However, it is important to note some downsides that were mentioned in the reviews. Customer support for the Kugoo brand was reported to be lacking, which may pose challenges if you encounter any issues with the scooter. Additionally, a few users reported quality control issues, so it's worth considering these potential drawbacks before making a purchase. Lastly, some users found that the scooter may not be suitable for all sizes, so it's important to ensure that it fits your body type comfortably. In conclusion, the Kugoo Kirin M4 Pro offers an impressive package of features and performance at a budget-friendly price. Its great range, max speed, foldability, and exceptional braking mechanism make it a strong contender in the electric scooter market. However, it's important to be aware of the potential customer support issues and quality control concerns. If you're willing to take that risk, the Kugoo M4 Pro provides exceptional value for your money, as one review put it: "You will be getting the best bang for your buck if you purchase Kugoo's M4 Pro."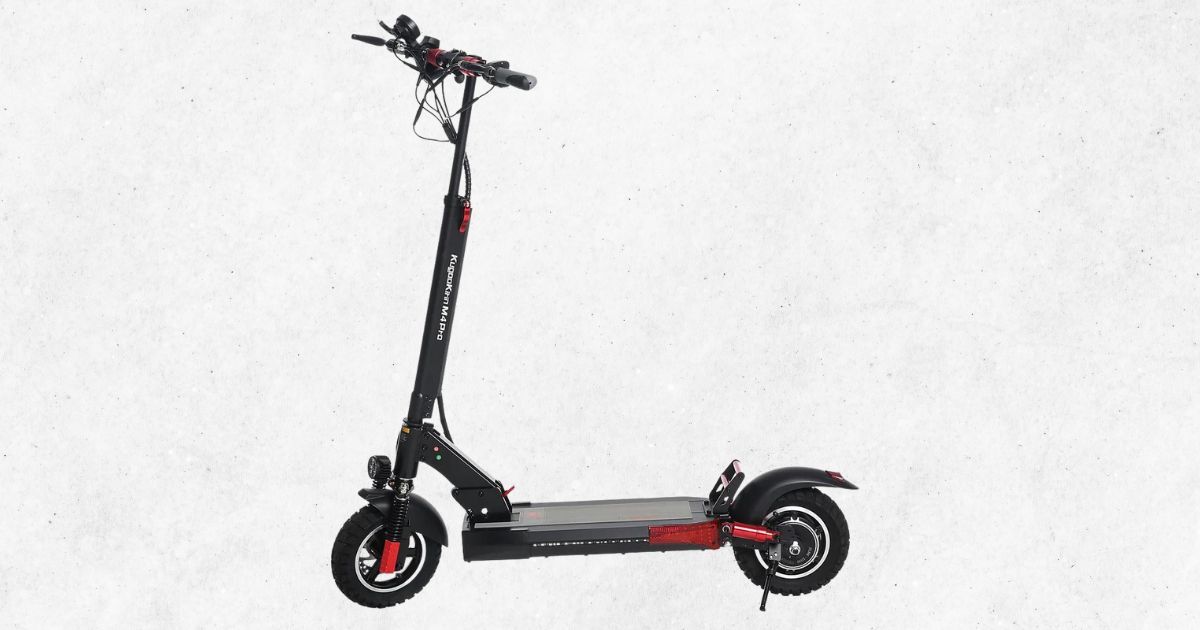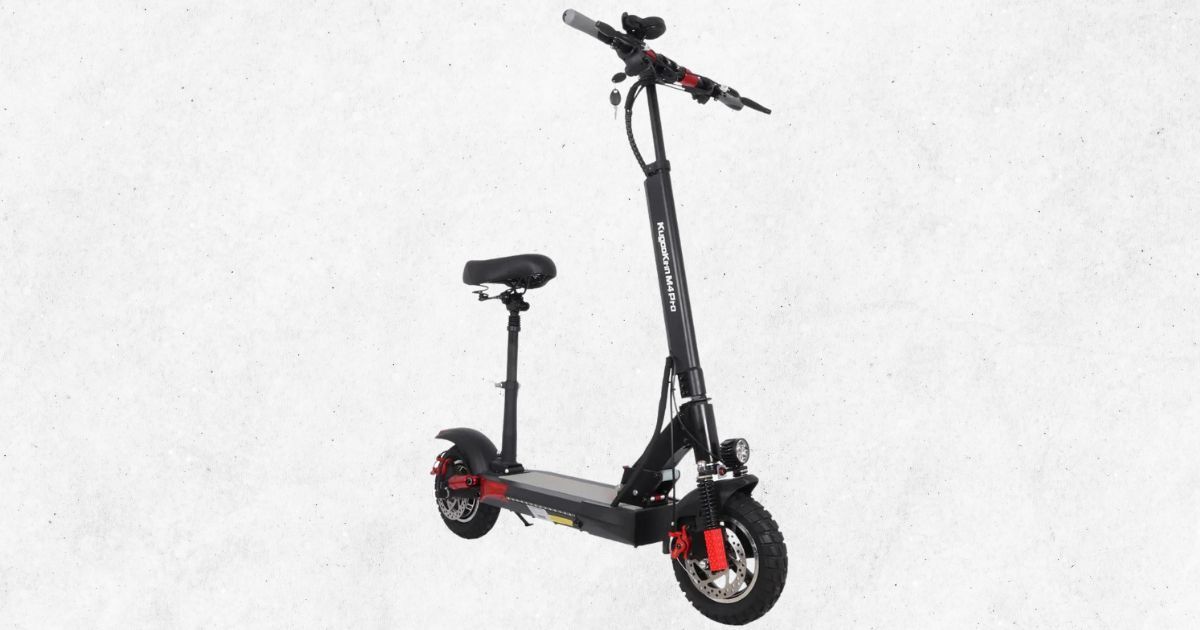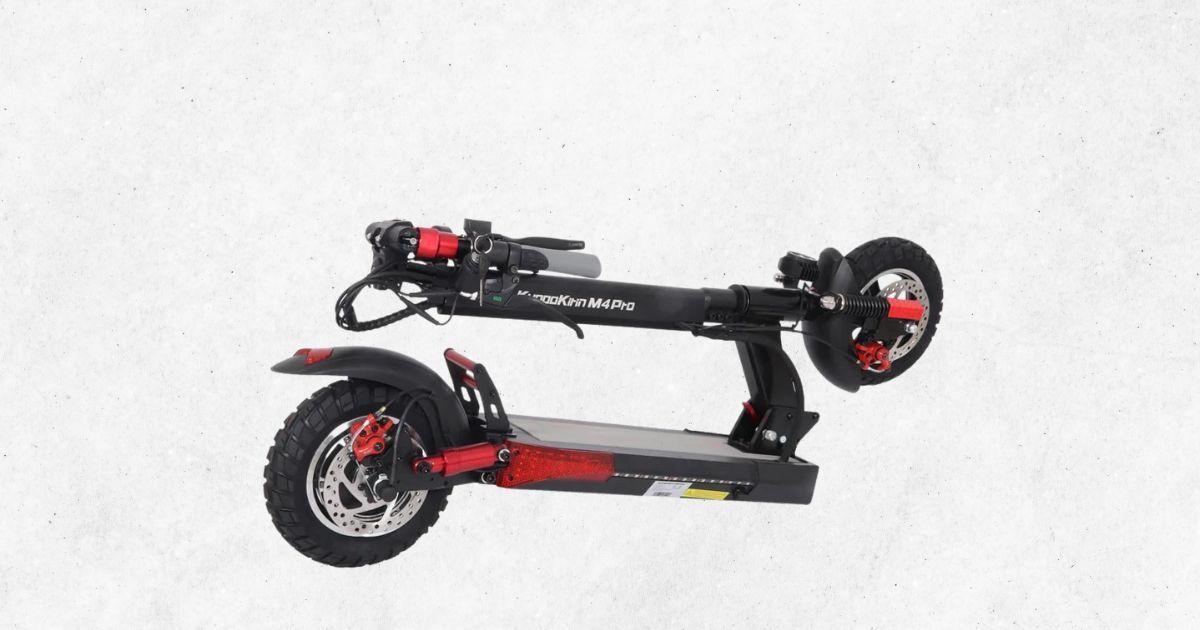 ---
5 Reasons to Buy the M4 Pro
Unmatched features for the price
Great max speed and a vast range
Offers optional seat
Folds up into a very compact structure
Exceptional braking mechanism
3 Reasons Not to Buy the M4 Pro
If something goes wrong, customer support is poor
Some users have reported quality control issues
May not fit all sizes
---
Bottom Line
The Kugoo Kirin M4 Pro has unmatched features in its price range. If occasional quality control and customer support problems are not an issue, then the M4 Pro is a great choice. You can go on a long trip with this electric scooter because of its enormous range of up to 65km, you can effortlessly ascend those steep hills!
Reviews
Reviews of the Kugoo Kirin M4 Pro
KUGOO KIRIN M4 Pro Folding Electric Scooter Review - Chris Wilson
"You will be getting the best bang for your buck if you purchase Kugoo's M4 Pro."
Kugoo M4 Pro Review – Power, Commuting, and Offroad, on a Budget - Matt Trajkovski
"The Kugoo M4 Pro is the latest, maybe greatest scooter from the Kugoo brand."
Subscribe to Ride Review
Sign up for free for the Ride Review Newsletter - the world's largest newsletter about small electric vehicles - and have chances to win our electric bike and scooter giveaways. Trusted by over 60,000 riders around the world.
No, thank you.