Segway Ninebot Max
Updated: September, 2023
As I was zooming down the winding paths of my local park on the Segway Ninebot Max, I couldn't help but feel a sense of freedom and exhilaration. The wind rushed through my hair, and the smooth ride of the Kickscooter Max made me forget about the weight of the world for a moment. This eScooter truly lives up to its name, offering a maximum experience in terms of range, comfort, and power. One of the standout features of the Segway Ninebot Max is its impressive range. With the ability to cover up to 40 miles on a single charge, this scooter can take you on some truly epic journeys. Whether you're commuting to work, exploring your city, or simply enjoying a leisurely ride, the Kickscooter Max has the juice to keep you going. Speaking of commuting, the sturdy frame of the Segway Ninebot Max ensures a comfortable ride. It can withstand the bumps and cracks of city streets with ease, providing a smooth and stable journey. No need to worry about feeling every little imperfection in the road when you're on this scooter. When it comes to tackling inclines, the 350-watt engine of the Kickscooter Max is your best friend. It effortlessly propels you up steep hills, making even the most challenging terrains feel like a breeze. This is especially useful for those who live in hilly areas and need a scooter that can handle the ups and downs of their daily commute. Safety is always a top priority, and the Segway Ninebot Max doesn't disappoint in this department. Equipped with bright headlights and tail lights, this scooter ensures that you're visible to others on the road, even in low-light conditions. Additionally, the loud and easily accessible bell allows you to alert pedestrians and fellow cyclists of your presence, promoting a safer riding experience for everyone. Now, let's address a couple of downsides to keep in mind. Firstly, the Segway Ninebot Max does have some heft to it, weighing in at over 40 pounds. While this contributes to its sturdiness, it can be a bit cumbersome when you need to carry it on and off your regular commute. So, if portability is a key factor for you, it's worth considering the weight of this scooter. Secondly, while the Kickscooter Max excels in range and comfort, it may not be the speed demon you're looking for. Some reviewers have noted that its acceleration could be improved, so if you have a need for speed, this may not be the scooter for you. Overall, the reviews speak for themselves. The Segway Ninebot Max is a solid choice for those seeking a long-range scooter at a reasonable price. Its sleek design and chunky aesthetics give it an edgy vibe, and its seamless black paint job is sure to turn heads as you cruise by. So why wait? Get on the Ninebot Max and experience the thrill of electric scooters like never before.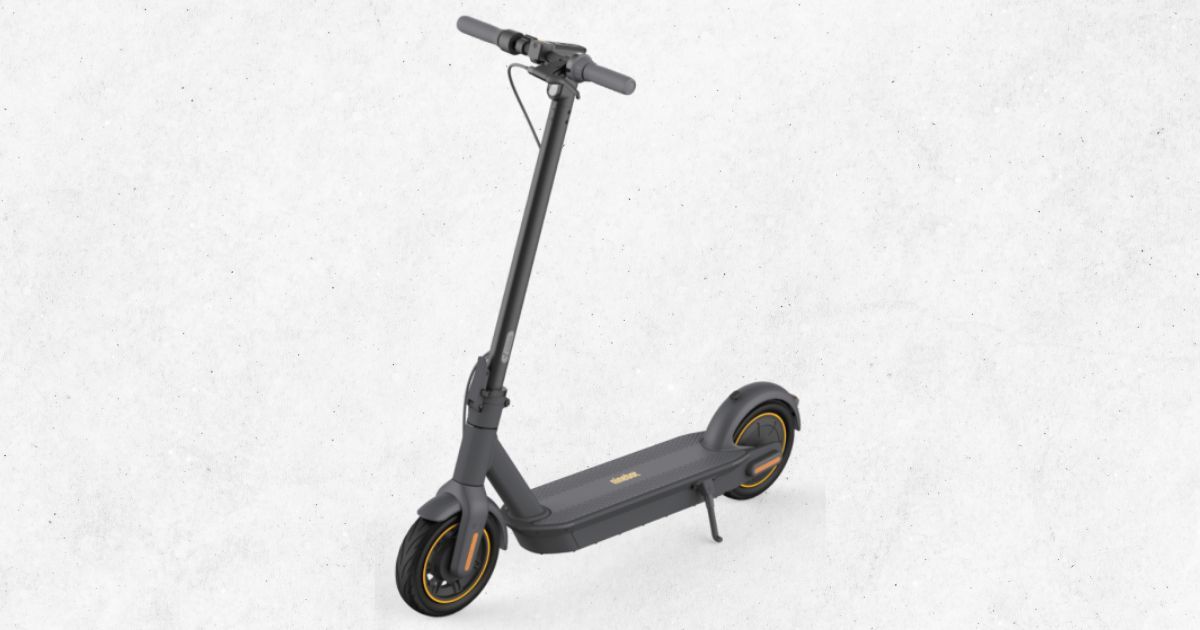 ---
5 Reasons to Buy the Segway Ninebot Kickscooter Max
The Segway Ninebot Kickscooter Max has an impressively long range of up to 40 miles.
Its sturdy frame ensures a comfortable ride.
Its 350-watt engine helps to maneuver steep inclines.
It comes with a loud and easily accessible bell.
It has bright head and tail lights which makes it easy to notice on the road.
2 Reasons Not to Buy the Segway Ninebot Kickscooter Max
The Segway Ninebot Kickscooter Max weighs more than 40 pounds, which means carrying it on and off of your regular commute can be a real pain.
It does not have great acceleration.
---
Bottom Line
The Segway Ninebot Kickscotter Max is a terrific alternative for riders willing to carry more weight for a longer-ranged scooter with low maintenance and durability.  In other words,  the Max isn't about speed but longevity, and the Max is here to stay.
Reviews
Reviews of the Segway Ninebot Max
The Leading Authority in Electric Scooters. - Josh
"Its seamless black paint job and chunky aesthetics give it an edgy vibe"
Segway Ninebot Kickscooter Max review - Mike Prospero
"The Kickscooter Max gets you around just as fast and just as smoothly, over longer distances."