Emojo Hurricane
Updated: September, 2023
Picture this: it's a sunny summer day, and you're cruising down the beach boardwalk, effortless gliding past pedestrians with a smile on your face. The salty breeze gently hits your cheeks as you relish in the freedom and joy that only a bike ride can bring. This is the experience that the Emojo Hurricane promises to deliver. At Ride Review, we've scoured through countless reviews and tested the Emojo Hurricane ourselves to bring you an overview of this eBike that combines style with substance. With its powerful electric motor, this bike makes riding an absolute breeze. No need to break a sweat as you effortlessly tackle any terrain, from sandy beaches to hilly city streets. One of the standout features of the Emojo Hurricane is its lightweight and durable aluminum frame. Not only does it make the bike agile and nimble, but it also ensures that it can withstand the rigors of everyday riding. And with the fat balloon tires, you can confidently conquer any surface without worries of slipping or getting stuck. Safety is a top priority for the Emojo Hurricane, as evidenced by the built-in headlight and taillight. Whether you're riding at dawn or dusk, these lights ensure that you're visible to others on the road. Plus, the bike comes with a rear carrier that can handle up to 300 pounds, making it perfect for running errands around the city. When it comes to convenience, the Emojo Hurricane doesn't disappoint. Charging the battery is a breeze, with a quick charging time that doesn't leave you waiting for hours on end. And should any repairs or maintenance be needed, the bike's easy assembly and disassembly make it a breeze to work on. In terms of design, the upgraded beach cruiser aesthetic of the Emojo Hurricane is appealing and oozes retro charm. The sleek 50s-inspired design, paired with modern features, makes this bike a true head-turner. Comfort is also prioritized in the Emojo Hurricane. The spring-mounted saddle provides a smooth and cushioned ride, even on rougher terrain. And with the integrated LCD screen, you have easy access to essential information like speed and remaining battery life. While the Emojo Hurricane has received glowing reviews, there are a couple of drawbacks to consider. It's only available in one size, which may limit options for riders of different heights. Additionally, compared to some competitors, the Emojo Hurricane falls on the higher end of the price spectrum. Overall, the Emojo Hurricane is a reliable and stylish eBike that excels in performance, convenience, and safety. Whether you're exploring the city or embarking on beachside adventures, this bike is sure to bring a smile to your face and make every ride an enjoyable experience. Say goodbye to the hassles of traditional biking and embrace the future of micromobility with the Emojo Hurricane.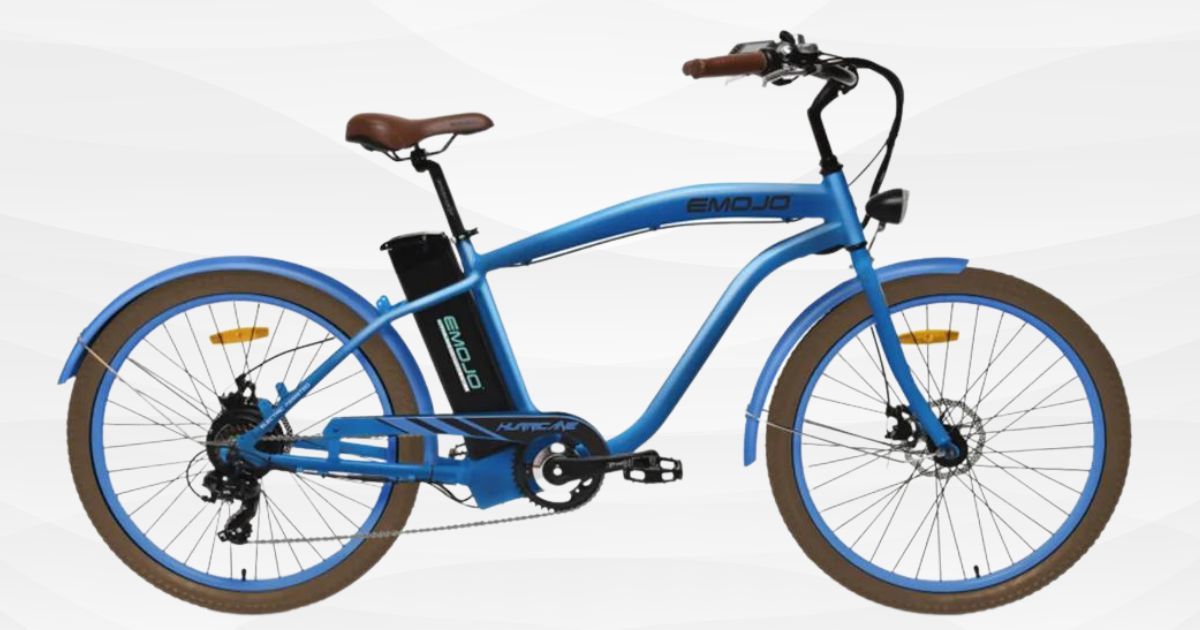 ---
10 Reasons to Buy the Emojo Hurricane Pro
The bike has a powerful electric motor that makes riding effortless.
It has a lightweight and durable aluminum frame.
It has fat balloon tires that will get you over any type of terrain with ease.
Headlight and taillight are built-in.
The bike comes with a rear carrier that can carry 300 pounds, and is very handy when you're moving around the city.
Battery charging time is quick, and gives a decent range.
Assembling and disassembling the bike is easy: it is very repairable.
The upgraded beach cruiser design is appealing.
This bike has a spring-mounted saddle, which enhances comfort.
Hurricane Pro comes integrated with an LCD screen that tells basic functions, like speed and remaining battery.
3 Reasons Not to Buy the Emojo Hurricane Pro
It is only available in one size (78L x 25W x 43H.)
It seems to be on the expensive side, compared to its competitors.
The bike is not very maneuverable and is a little harder to steer on complicated terrain.
---
Bottom Line
The Emojo Hurricane Pro is arguably a powerful electric bike. Its hybrid design makes it a great commuter bike, and fat tires give performance over rough terrain.  This bike is the right one for you if you're looking to get multifaceted use out of it: it is lauded for leisure rides across city roads or even rough patches you might face in rugged paths.
Reviews
Reviews of the Emojo Hurricane
Emojo Hurricane 500w cruiser ebike -
"Where classic beach cruiser style meets modern technology - the Emojo Hurricane Pro is a beautiful bike with all the benefits of a high-performance electric bicycle. Packing a powerful 500W motor and Shimano 7-speed gears, the Hurricane Pro can tackle any hill you find, and you won't even break a sweat."