Emojo Lynx
Updated: September, 2023
At Ride Review, we're on a mission to help everyone find the perfect micromobility vehicle for their lifestyle. That's why we're excited to introduce you to the Emojo Lynx, a foldable eBike that combines convenience, durability, and power. Imagine this: You have a busy day ahead, with errands to run and places to be. You need a reliable mode of transportation that can effortlessly navigate crowded streets and take on any terrain. The Emojo Lynx steps in to save the day. One happy rider shared their experience, saying, "The Emojo Electric Bike is among the best electric fat bikes." Its foldable design allows you to easily move it around and store it when you're not riding. No more worrying about parking or finding a secure spot for your bike. Built with a sturdy alloy frame, the Emojo Lynx can handle the rough and tumble of daily commuting. Whatever your age or size, this bike has got you covered. It supports riders of most ages and can carry a maximum weight of 230lbs. With a 7-speed Shimano transmission, minimal maintenance is required to keep your ride smooth and efficient. The Emojo Lynx comes fully equipped with mudguards, a rear carrier, and a stable kickstand, ensuring you have the essential accessories for your daily adventures. Need more storage space? No problem! This bike is front-carrier ready, allowing you to easily attach additional storage options to carry your belongings. Safety is paramount, especially when riding in low light conditions. That's why the Emojo Lynx is equipped with 12V DC back and front lights, providing ample visibility and ensuring you can confidently ride at any time of day or night. Plus, with its powerful 500w motor, you'll have the extra boost you need to conquer inclines and tackle challenging terrains. The Emojo Lynx has a wide range of use cases, making it suitable for various types of riders. Whether you're a daily commuter, an adventure seeker, or someone who simply enjoys leisurely rides around town, this eBike can handle it all. A satisfied customer raved about Emojo Lynx, saying, "Emojo Lynx is one of the most reputable manufacturers of electric bikes." When it comes to reliability and quality, Emojo is a name you can trust. Of course, no product is perfect, and the Emojo Lynx does have a few drawbacks to consider. First, it is on the higher end of the price spectrum compared to other options in the market. However, when you factor in its durability and power, the investment may be worth it for avid riders. Additionally, on a single charge, it can travel up to 30 miles, so it may not be the best choice for those looking for longer rides without recharging. Lastly, the recommended rider height for optimal comfort is around 5 ft 10 in. In summary, the Emojo Lynx offers a foldable and convenient solution for riders of all ages and sizes. With its durable build, powerful motor, and range of accessories, it's a reliable choice for daily commuters and adventure enthusiasts alike. While it may be a bit pricier than other options, its performance and reputation make it worth considering. So, hop on the Emojo Lynx and embark on your next thrilling ride with confidence!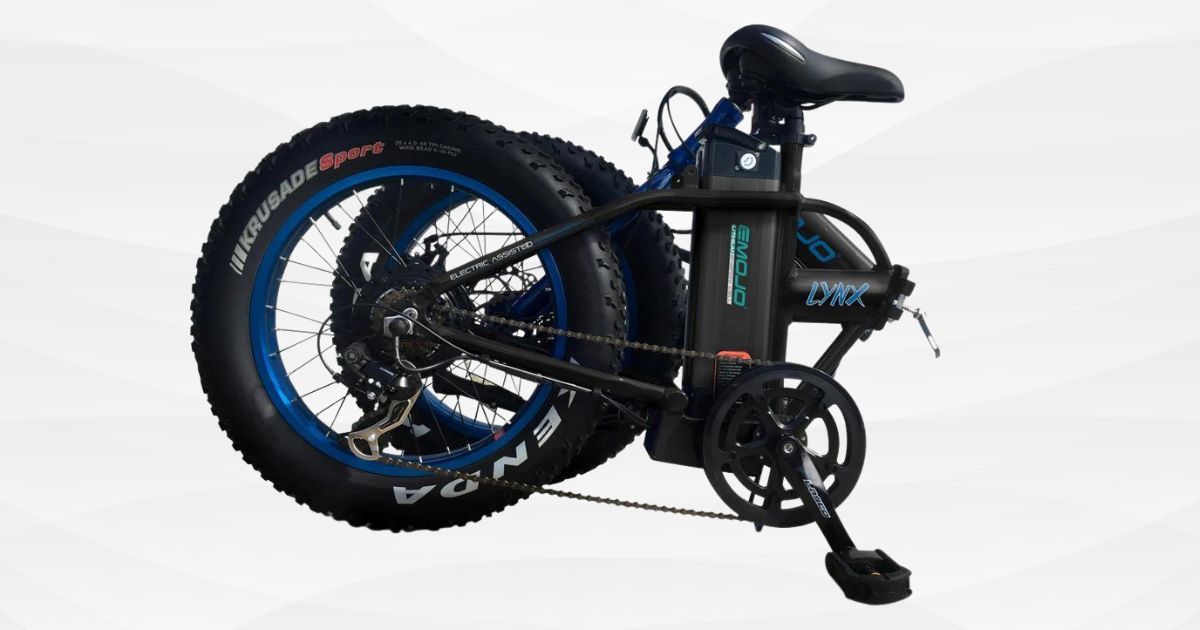 ---
11 Reasons to Buy the Emojo Lynx
Foldable and can be moved around with ease
Durable, sturdy alloy frame
Size allows people of most ages to ride the bike
Supports a maximum of 230lbs
7-speed Shimano transmission requires little maintenance
Comes with mudguards, a rear carrier, and a stable kickstand
Is front-carrier ready
12V DC back and front lights
Has a powerful 500w motor
Wide-range of use cases
Has tektro dual discs, which have great feedback and quality.
3 Reasons Not to Buy the Lynx Emojo
The bike is quite an expensive purchase compared to other options in the market.
On a single charge, it travels only 30 miles.
The height of the rider must be around 5 ft 10 in.
---
Bottom Line
The Emojo lynx is one of the finest entries by Emojo in the world of foldable ebikes. Not only does it look promising, but its sturdy frame and efficient 500-watt motor, along with adjustable length, efficient, space-saving size, and innovative mechanisms, make it a contender for the best e-bikes around. The two downsides include the battery range and height limit. But if it isn't a concern, then lynx is the way to go.
Reviews
Reviews of the Emojo Lynx
Emojo Lynx Electric Bike Review - Richard Peace
"Emojo Lynx is one of the most reputable manufacturers of electric bikes."
Subscribe to Ride Review
Sign up for free for the Ride Review Newsletter - the world's largest newsletter about small electric vehicles - and have chances to win our electric bike and scooter giveaways. Trusted by over 60,000 riders around the world.
No, thank you.