Hiboy Max3
Updated: September, 2023
Introducing the Hiboy Max3, the latest addition to Hiboy's MAX range of electric scooters. With its portable folding design and lightweight yet durable frame, the Max3 is built for convenient urban commuting. One standout feature of the Max3 is its wider deck and pneumatic tires. This combination ensures a comfortable riding experience, even on bumpy roads. The dual-density tires are also puncture-resistant, making them perfect for handling speed bumps and rough surfaces without the worry of deflation. The Max3 also comes with a free tire pump, so you can easily maintain your scooter's optimal tire pressure. This attention to detail shows that Hiboy has thought of everything to keep your ride smooth and worry-free. Another highlight of the Max3 is its LED display, which provides all the necessary information at a glance. From riding mode and battery level to cruise display function and driving speed, everything is easily accessible on the display. Safety is a top priority with the Max3. The scooter is equipped with efficient and highly responsive dual brakes to ensure a safe riding experience. Additionally, the brake light and headlight offer visibility during night rides, adding an extra layer of security. With its included long-range battery, the Max3 is perfect for daily commuting. You won't have to worry about running out of power during your rides. While the Max3 offers many advantages, there are a few things to consider. The handlebar cannot be adjusted, which may cause discomfort for taller riders. Additionally, some reviewers have mentioned that the LED display is average and lacking in brightness. Finally, it's worth noting that the Max3 lacks suspension, which may impact ride quality on uneven roads. Overall, the Hiboy Max3 is a reliable and versatile electric scooter that caters to the needs of urban commuters. Its portable folding design, comfortable ride, and safety features make it an excellent choice for those looking for a convenient and efficient way to navigate city streets.
Features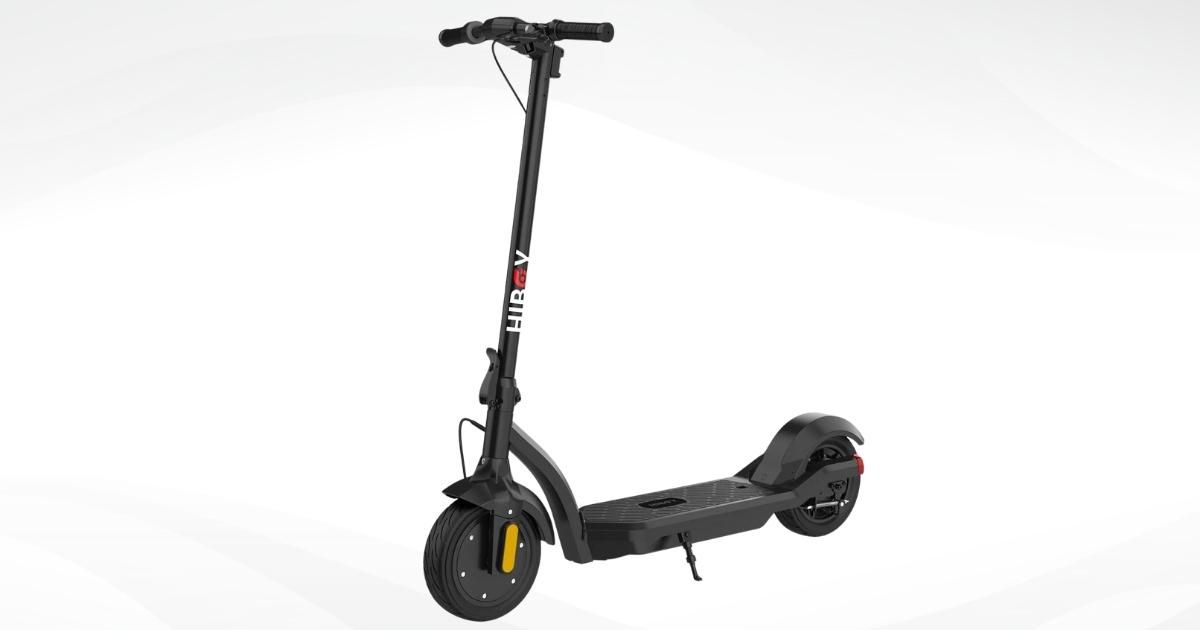 ---
10 Reasons to Buy the Hiboy Max3
The portable folding design allows it to be easily carried in subways, elevators, etc.
Frame is lightweight yet durable.
A wider deck and pneumatic tires deliver a comfortable riding experience even on bumpy roads.
Comes with a free tire pump.
Dual-density tires can withstand multiple punctures without tire deflation; works well on speed bumps and rough surfaces.
The LED display is easy and provides all the necessary information: riding mode, battery level, cruise display function, and driving speed.
The dual brakes are efficient and highly responsive.
Included long-range battery is ideal for daily commuting.
Is capable of supporting a max load of 220lbs
The brake light and headlight deliver a safe riding experience at night.
3 Reasons Not to Buy the Cube Fold Hybrid
The handlebar cannot be adjusted so taller riders might face discomfort riding this scooter.
Included LED display is average and lackluster.
This scooter lacks suspension.
---
Bottom Line
Equipped with a 350W motor, the Hiboy Max3 gives a swift, fun, smooth and comfortable ride. It is an ideal choice if you are looking for a trendy, practical electric scooter on a low budget for your daily commute.
Reviews
Reviews of the Hiboy Max3
Hiboy Max 3 Electric Scooter Review | Electric Scooter -
Hiboy has added another model in the $400 - $500 price range, that makes 6 models to choose from. The review shows you everything you need to know with a speed, acceleration, range, hill and brake test.
HIBOY MAX3 REVIEW -
The Max3 is the third scooter in Hiboy's MAX range, a model that raises the bar for easy urban commuting.
Subscribe to Ride Review
Sign up for free for the Ride Review Newsletter - the world's largest newsletter about small electric vehicles - and have chances to win our electric bike and scooter giveaways. Trusted by over 60,000 riders around the world.
No, thank you.