Himiway Cruiser Fat Tire
Updated: September, 2023
Introducing the Himiway Cruiser Fat Tire, a powerful and comfortable eBike designed for those who value versatility and comfort on their rides. With a range of impressive features and positive reviews, this eBike is gaining recognition as a top choice for riders seeking both performance and comfort. Let's start with the battery. Despite its small size, the battery on the Himiway Cruiser offers an extended range, allowing you to go further on a single charge. This is a huge advantage for riders who enjoy long journeys without worrying about running out of power. Safety is also a priority with the Himiway Cruiser. The inclusion of both a headlight and a tail light ensures that you remain visible to others on the road, enhancing your safety during night rides. Additionally, the cushy tires provide excellent grip and stability, ensuring a smooth and confident ride regardless of the terrain you choose. Comfort is another standout feature of the Himiway Cruiser. The Velo soft saddle guarantees a comfortable ride, even on longer journeys. Riders can easily hop on this eBike and enjoy a smooth and pain-free experience, thanks to the thoughtful design of the seat. Durability and practicality are also key aspects of the Himiway Cruiser. The updated motor offers not only fast acceleration but also enhanced durability compared to its predecessor. This means you can expect a reliable and efficient riding experience for years to come. Additionally, the inclusion of plastic fenders ensures that you stay dry and protected when riding in inclement weather conditions. Convenience is not overlooked either. The Himiway Cruiser features a multifunctional display that not only provides useful information during your ride but also includes a USB port for charging other electric devices. This means you can stay connected and powered up even when you're on the go. The Himiway Cruiser also comes with a sturdy rear rack, perfect for carrying your belongings or even serving as an additional seat for a second rider. This added versatility makes the eBike suitable for different situations, whether you're commuting, exploring the city, or going on an adventure with a partner or friend. While the Himiway Cruiser has received overwhelmingly positive feedback from riders, there are a few minor drawbacks to consider. Some users have reported occasional glitches in the display readout, which might be an inconvenience for those who heavily rely on the displayed information. Additionally, the motor may have a slight delay when starting with pedal assistance, but this does not significantly impact the overall riding experience. One thing to keep in mind is that the Himiway Cruiser is a bit on the heavy and long side, which could pose challenges when it comes to transportation. Lifting it up and down stairs or transporting it on a rack might be more difficult compared to lighter and more compact eBike models. However, once you're on the road, the Himiway Cruiser truly shines. In summary, the Himiway Cruiser Fat Tire is an excellent choice for riders seeking a powerful and comfortable eBike that can handle various terrains. With its extended range, safety features, and impressive comfort, the Himiway Cruiser is likely to please those who value versatility and functionality in their rides. Whether you're a city commuter or an adventurous explorer, this eBike is worth considering for your next ride.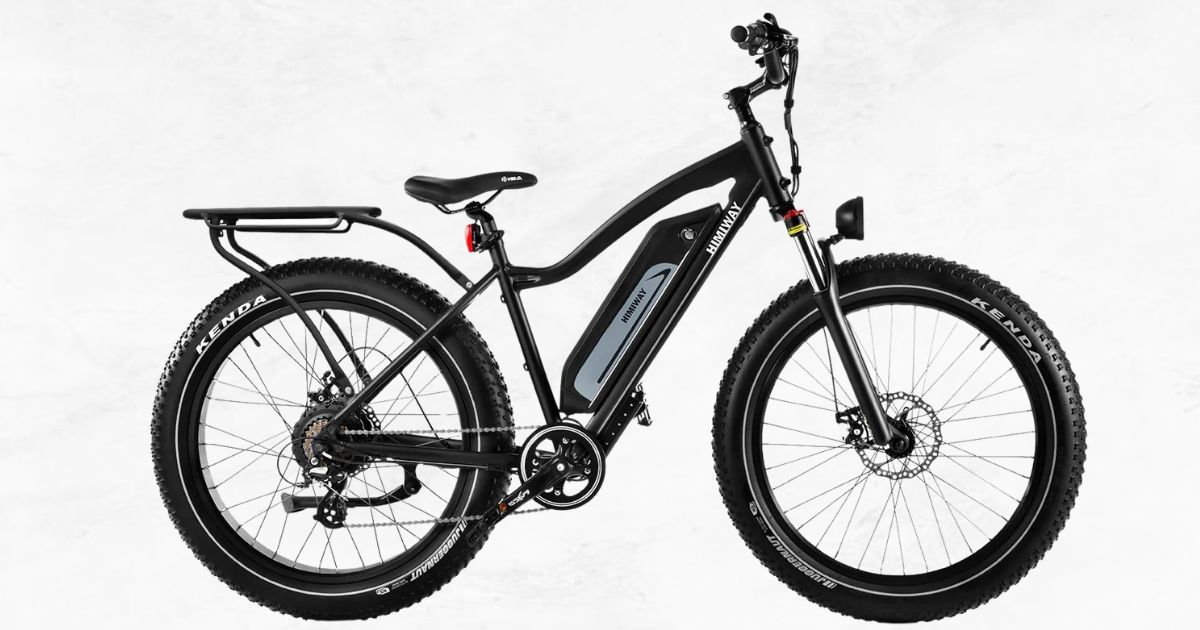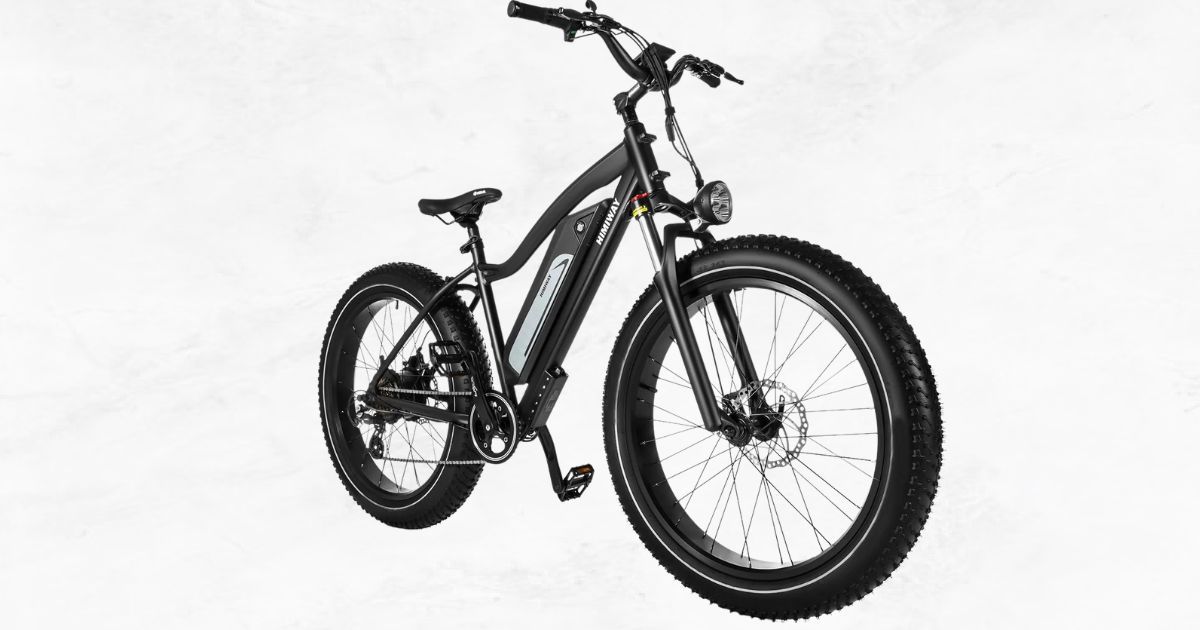 ---
10 Reasons to Buy the Cruiser Fat Tire Electric Bike
The battery featured on this bike is relatively small but powerful, as it offers a tremendous extended range.
There are two lights – a headlight and a tail light included on the bike.
The cushy tires offer tremendous grip and make the bike extra stable.
The plastic fenders on the bike will protect you and keep you dry when riding in rain or snow.
The bike features a Velo soft saddle that makes riding extremely comfortable, even on longer journeys.
The updated motor is much more durable than the previous one, and it also offers fast acceleration.
The pedals have convenient reflectors to make the bike easily noticeable in the dark.
The heavy-duty aluminum kickstand will help the bike stay upright when you do not have the option of holding it yourself.
The bike has a multifunctional display that allows you to charge other electric devices using the USB port.
There is a sturdy rear rack you can use for storage or as a second seat when you have another person riding with you.
3 Reasons Not to Buy the Cruiser Fat Tire Electric Bike
The display might have some readout glitches.
The motor might have a slight delay when you start using the pedal assistance.
The bike is a bit heavy and long, so it can be difficult to transport.
---
Bottom Line
The Himiway Cruiser Fat Tire is one of the best all-terrain electric bikes you can find on the market. It comes at a very affordable price, whereas the company often offers discounts and free accessories for it. Don't hesitate to look into it more closely, as it is undoubtedly a smart investment!
Reviews
Reviews of the Himiway Cruiser Fat Tire
Himiway Cruiser Electric Bike Review - Josh Ross
"It's comfortable and fun to ride. I don't recommend trying to lift it up and down stairs regularly, or even much transportation on a rack, but get out on the road and it's a dream."