Magnum Pilot
Updated: September, 2023
At Ride Review, we are always on the lookout for the perfect electric bike that strikes the right balance between comfort, performance, and reliability. And we think we've found just that in the Magnum Pilot. Picture this: cruising down the boardwalk on a warm summer evening, wind in your hair, and a smile on your face. That's the kind of experience the Magnum Pilot promises. With its new Ananda mid-drive system, this eBike offers a natural and balanced ride that makes it the perfect companion for leisurely rides with the family or exploring your neighborhood. One standout feature of the Magnum Pilot is its low step design, which makes mounting and dismounting a breeze. No more awkward maneuvers or wobbly take-offs. Just hop on and start enjoying the ride. But the Pilot isn't just about convenience. It's also packed with performance features that will leave even the most seasoned riders impressed. With a 500W mid-drive motor and a top speed of 28 mph, this eBike has the power to take you wherever you want to go. And thanks to its impressive 50-mile range, you won't have to worry about running out of juice halfway through your journey. One of the standout features of the Magnum Pilot is its VeloFox display. This intuitive and user-friendly interface allows you to easily monitor your speed, battery life, and other important metrics. It's like having a personal assistant right at your fingertips, keeping you informed and in control. And let's not forget about the throttle control, which gives you the freedom to choose when and how much you want to pedal. Whether you're looking to get a quick burst of speed or just take it easy, the Pilot has you covered. While the Magnum Pilot has received rave reviews, it's worth mentioning a couple of minor drawbacks. Some users have noted that the pedal assist system could benefit from some improvements. However, this is a minor gripe that can easily be overlooked considering all the other great features this eBike offers. It's also important to mention that the Magnum Pilot has a longer charge time of 7.5 hours. This means you'll need to plan your charging schedule accordingly, especially if you're planning long rides or using the eBike for commuting. In terms of construction, the Magnum Pilot boasts a sturdy aluminum frame, ensuring durability and stability on every ride. It also comes with hydraulic disc brakes for reliable stopping power and 10 gears for a smooth and customizable riding experience. Plus, with its integrated but removable battery, you can easily keep your eBike charged or bring an extra battery along for extended adventures. With a weight of 74.5 pounds, the Magnum Pilot strikes a good balance between being lightweight enough for easy maneuverability and sturdy enough to handle different terrains. And thanks to its fat tire design, you can enjoy a comfortable and stable ride, even on uneven surfaces. In conclusion, the Magnum Pilot is a standout eBike that offers a fantastic balance of comfort, performance, and versatility. Whether you're cruising the boardwalk or embarking on an adventurous ride, this eBike is up to the task. And with Magnum's commitment to quality and customer service, you can feel confident in your purchase knowing that you'll be well taken care of. So, what are you waiting for? Hop on the Magnum Pilot and experience the joy of riding in a whole new way.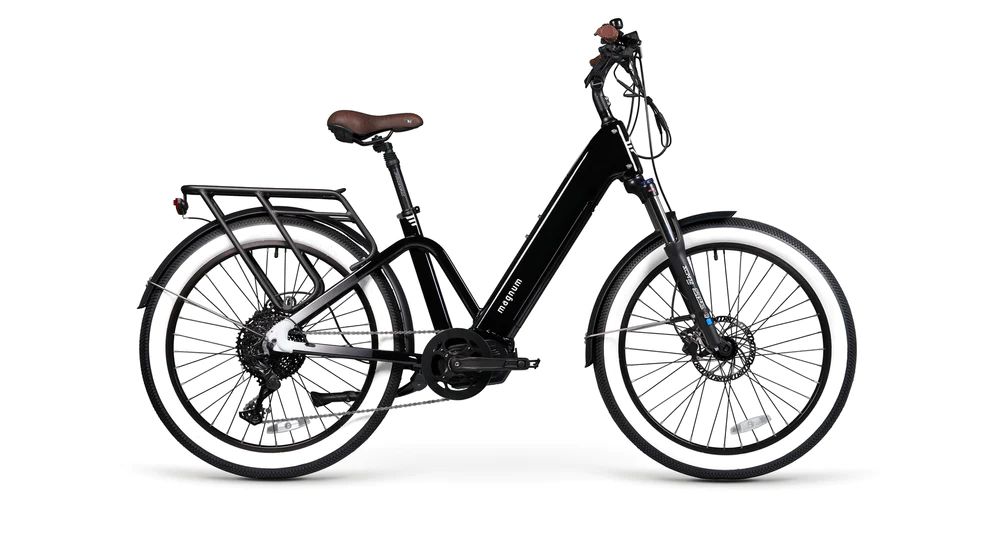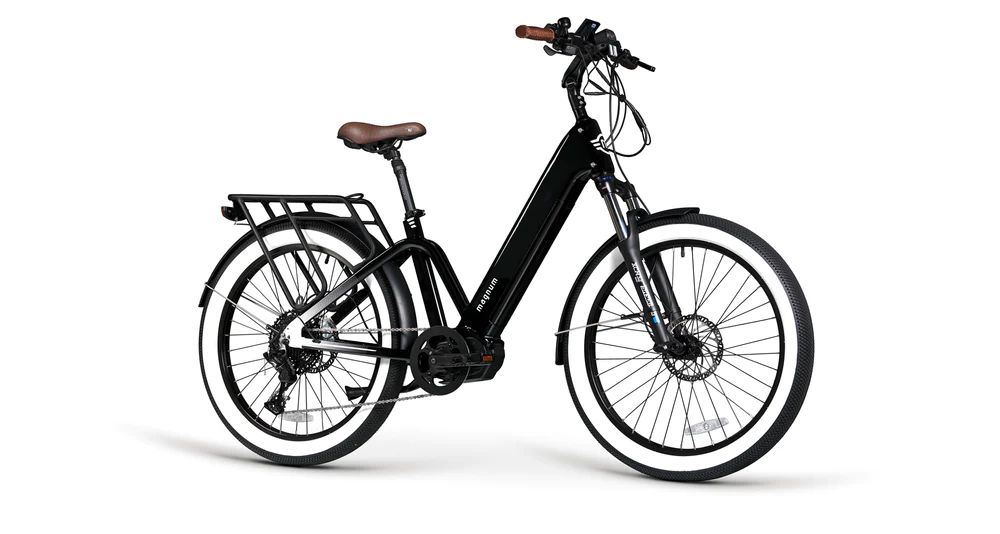 ---
8 Reasons to Buy the Magnum Pilot
Low step for easy mount and dismount
50 mile range
500W mid-drive motor
Throttle control
VeloFox display
Torque sensor pedal assist
Top speed of 28 mph
Walk mode
2 Reasons Not to Buy the Magnum Pilot
The pedal assist system may need some minor improvements.
Long charge time of 7.5 hours
---
Bottom Line
The Magnum Pilot is a reliable and accessible micromobility vehicle that offers great value for its price. With a worldwide presence and a commitment to quality, Magnum provides excellent customer service and a powerful electric motor. The Pilot's comfortable design and efficient power make it versatile for both commuting and adventure rides. While there may be some minor improvements needed to the pedal assist system, overall, the Magnum Pilot is a great choice for those in search of a quality and reliable micromobility vehicle.
Reviews
Reviews of the Magnum Pilot
Magnum Premium 3 E-Bike Review | Fun, Fast, Functional -
The Magnum Metro 750 electric adventure bike packs a powerful motor, quality build, and has great long-range potentials. The comfortable design and efficient power make it a versatile choice for commuting and adventure rides. The bike offers good value for the cost, with room for minor improvements in pedal assist system. The company offers good customer service for a satisfying purchase and post-purchase experience.
Magnum Electric Bikes - Utah HQ Store Tour -
The video is a review of Magnum bikes, from their assembly and tune-up area to their variety of models and accessories. The reviewer appreciates the worldwide presence of Magnum bikes in US, Canada, New Zealand, and Israel and the effort the company puts in quality and customer service.