Magnum Summit eBike
Updated: September, 2023
If you're in the market for a versatile eBike that can handle both city streets and off-road trails, the Magnum Summit is worth considering. After scouring through various reviews and testimonials, we at Ride Review have found that the Magnum Summit offers a mix of features that make it a suitable option for riders looking for a hybrid model. One notable feature of the Magnum Summit is its variety of color and wheel options. With four colorways to choose from and the option of either 27.5" or 29" wheels, riders can find the perfect combination that suits their personal style and riding preferences. The Summit offers a choice between pedal assist and throttle modes, providing flexibility in how you ride. The throttle function is particularly convenient, as it allows you to power the bike even without engaging pedal assist. This feature comes in handy when you need an extra boost or are navigating through crowded city streets. With its integrated downtube battery, the Summit boasts a sleek design that doesn't compromise on functionality. The bike's Velo seat, featuring a center vent, is designed for comfort during long rides. Additionally, the handlebars are extra wide and equipped with ergonomic grips, ensuring a secure and comfortable grip. Though the Summit isn't a cargo bike, it does come with a rear rack that allows you to attach a basket for storage. This feature is perfect for running errands or carrying small items while on the go. A prominent backlit display located on the handlebars provides riders with essential information about their journey while also enhancing visibility during low-light conditions. This display adds an extra layer of safety to your rides, especially when visibility is compromised. The Magnum Summit is fitted with high-quality tires that offer excellent traction, ensuring a smooth and stable ride on various surfaces. However, it's worth noting that the tires are not puncture-resistant, so caution should be taken when riding on rougher terrains. One potential drawback of the Summit is that it is available only in one frame size. While this size may work well for many riders, it may not be suitable for those who fall outside the average range. Additionally, due to its sturdy build and integrated battery, the bike can be heavy, making it less ideal for individuals who frequently need to transport or lift it over bumps on uneven terrain. Overall, the Magnum Summit is a solid choice for individuals who split their riding between city streets and trails. Its mix of features, including its color and wheel options, comfortable seat, versatile modes, integrated battery, and rear rack, make it a well-rounded eBike for commuting and weekend adventures. However, riders should keep in mind its weight and lack of puncture-resistant tires when evaluating whether it's the right fit for their needs.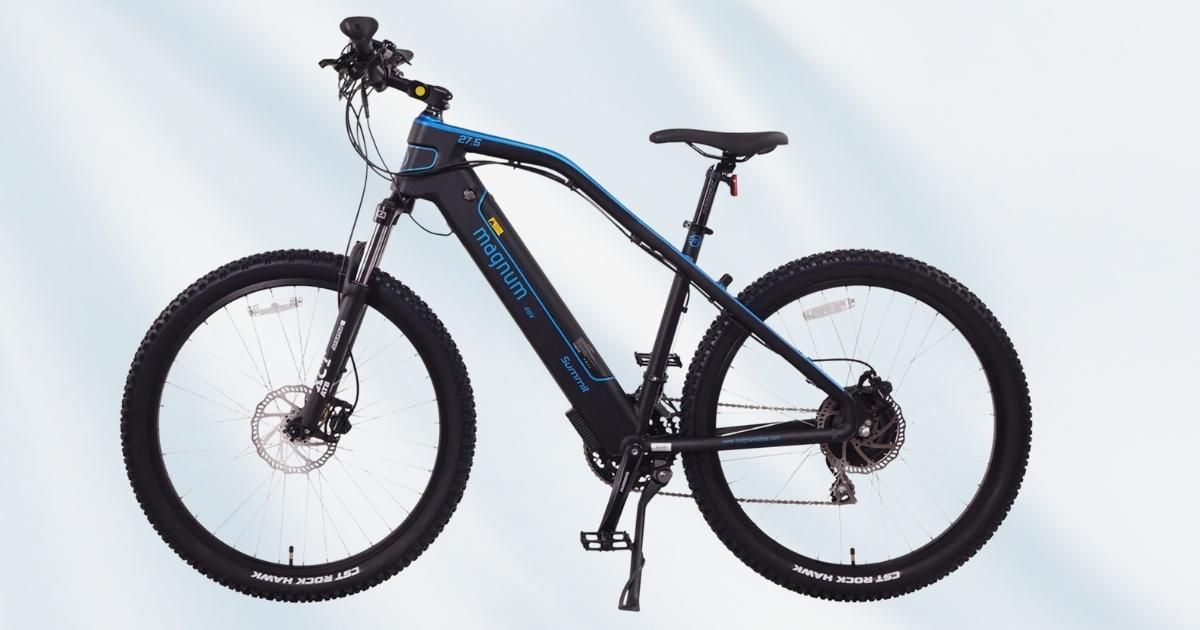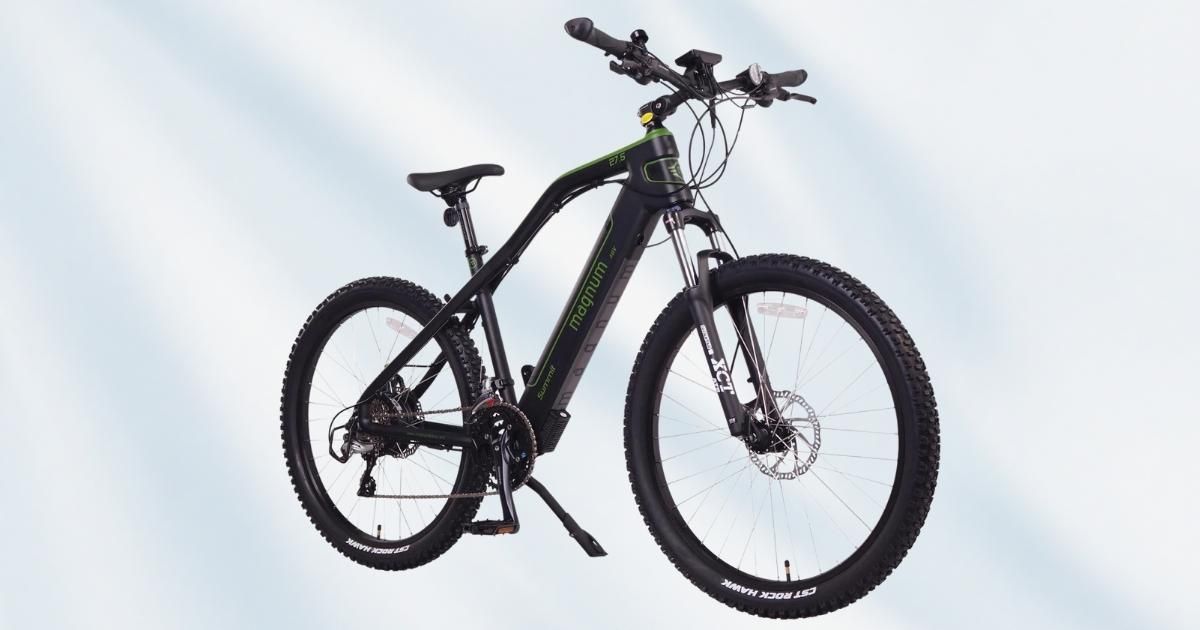 ---
10 Reasons to Buy the Summit eBike
It comes in four color options: black with blue, black with green, black with copper, and black with sand accents.
You can get the same bike with 27.5'' or 29'' wheels, depending on your needs.
You can choose between pedal assist and throttle, the latter being available even when you are not using pedal assist.
The bike comes with a battery that is integrated into the downtube.
The bike features a comfortable Velo seat with a center vent.
The handlebars are extra wide and come with ergonomic grips at the end.
Even though this is not a cargo bike, it has a rear rack you can use to attach a basket and store things.
A large backlit display on the handlebars allows you to see the details of your journey while also making your bike more visible.
The bike comes equipped with quality tires that have excellent traction.
The Tektro hydraulic brakes offer perfect control of the bike and immediately stopping.
3 Reasons Not to Buy the Summit eBike
The bike frame is available only in one size.
It can be heavy to transport and is not easy to lift over bumps on uneven terrain.
The tires are not puncture-resistant.
---
Bottom Line
The Magnum Summit e-bike is an excellent option for everyone looking to get a mountain bike that can be switched between classes 1, 2, and 3. This bike has many quality parts that make it very powerful and durable. You would not make a mistake if you decide to invest in it, but make sure to take it on a test ride first!
Reviews
Reviews of the Magnum Summit eBike
Magnum Summit Review - Court
I think the Summit is a good hybrid bike for people who do some city riding and commuting, with occasional trail and offroad riding.