Magnum Pathfinder 500
Updated: September, 2023
As someone who loves exploring the city on two wheels, I couldn't help but be intrigued by the Magnum Pathfinder 500. With its unisex step-through frame and compact size, it seemed like the perfect option for those who are new to eBikes or prefer a more approachable ride. Let's dive into the reviews to see if the Pathfinder 500 lives up to the hype. One standout feature mentioned in multiple reviews is the ease of approachability provided by the small wheel size and step-through frame. This makes it incredibly easy for riders to hop on and off the bike, no matter their age or physical abilities. Whether you're a busy parent or someone who simply wants a comfortable and accessible ride, the Pathfinder 500 seems to fit the bill. Speaking of families, this eBike has been praised for being family-friendly. With its bright integrated lights, it ensures that you'll be visible and safe while riding, even during low-light conditions. So, whether you're commuting to work early in the morning or taking an evening ride with your loved ones, the Pathfinder 500 has your back. Weight distribution is also an important consideration when it comes to eBikes, and the Pathfinder 500 seems to excel in this area. Riders have raved about the excellent weight distribution of this bike, leading to a stable and balanced riding experience. It's always a relief to know that you won't be struggling to keep the bike upright when coming to a stop. However, there are a few downsides to keep in mind. Some reviewers noted that the battery lock can be challenging to operate. While this may not be a deal-breaker for everyone, it's worth considering if you value quick and easy access to the battery. Additionally, the Magnum Pathfinder 500 does come with some weight compared to more compact eBikes. This is something to keep in mind if you'll need to lift or transport the bike frequently. However, the weight does provide added stability and durability, which may be worth the trade-off for some riders. Lastly, it's worth noting that the Pathfinder 500 has a charging time of approximately six hours. While this may seem like a long wait, it's important to remember that this is a common charging time for eBikes. As long as you plan accordingly and keep the battery topped up overnight or during periods of non-use, it shouldn't pose a major inconvenience. In conclusion, the Magnum Pathfinder 500 seems to be a reliable and accessible eBike option for both new and experienced riders. Its unisex step-through frame, family-friendly features, and excellent weight distribution make it a standout choice in the market. Just keep in mind the potential challenges with the battery lock, the weight compared to more compact models, and the charging time. With proper care and consideration, the Pathfinder 500 could be the perfect vehicle to enhance your urban adventures.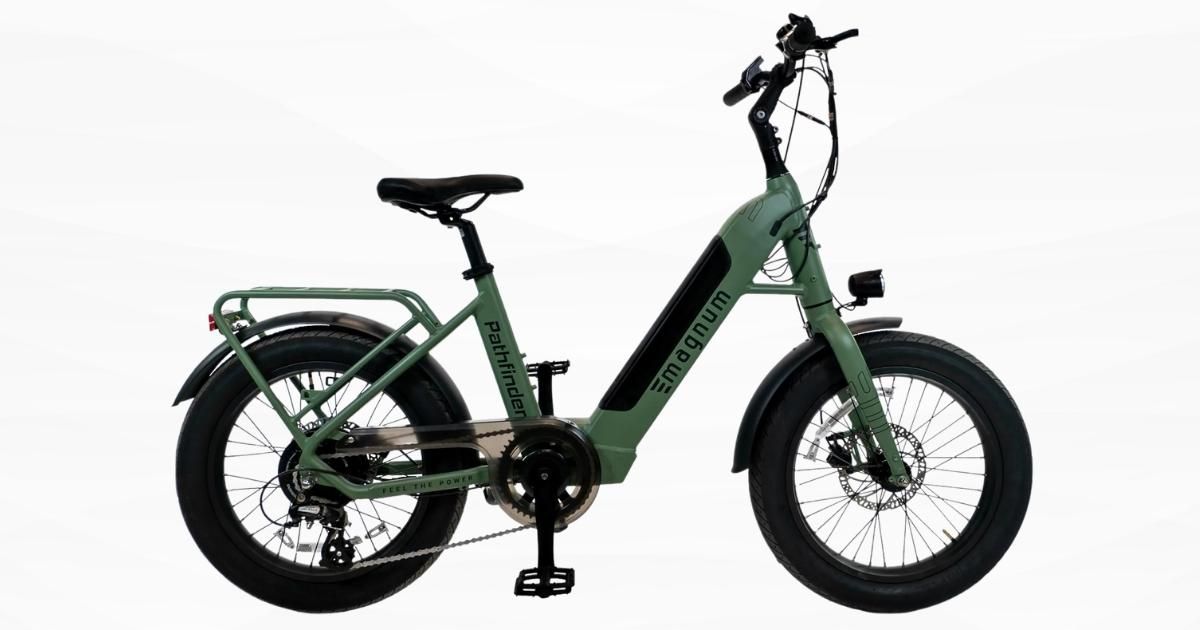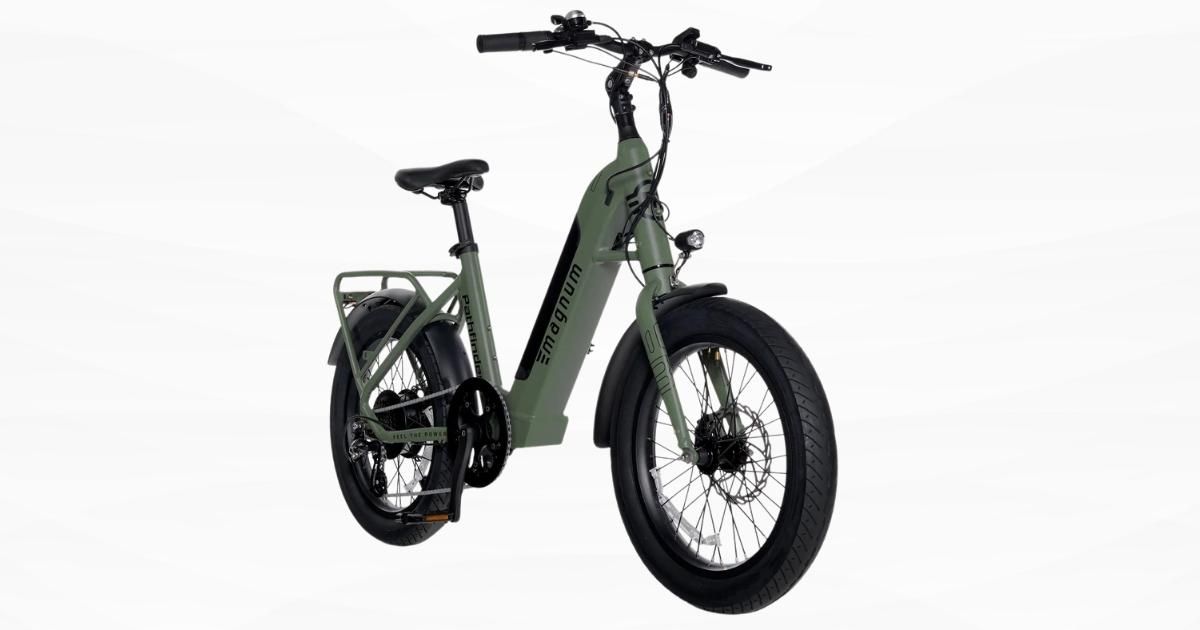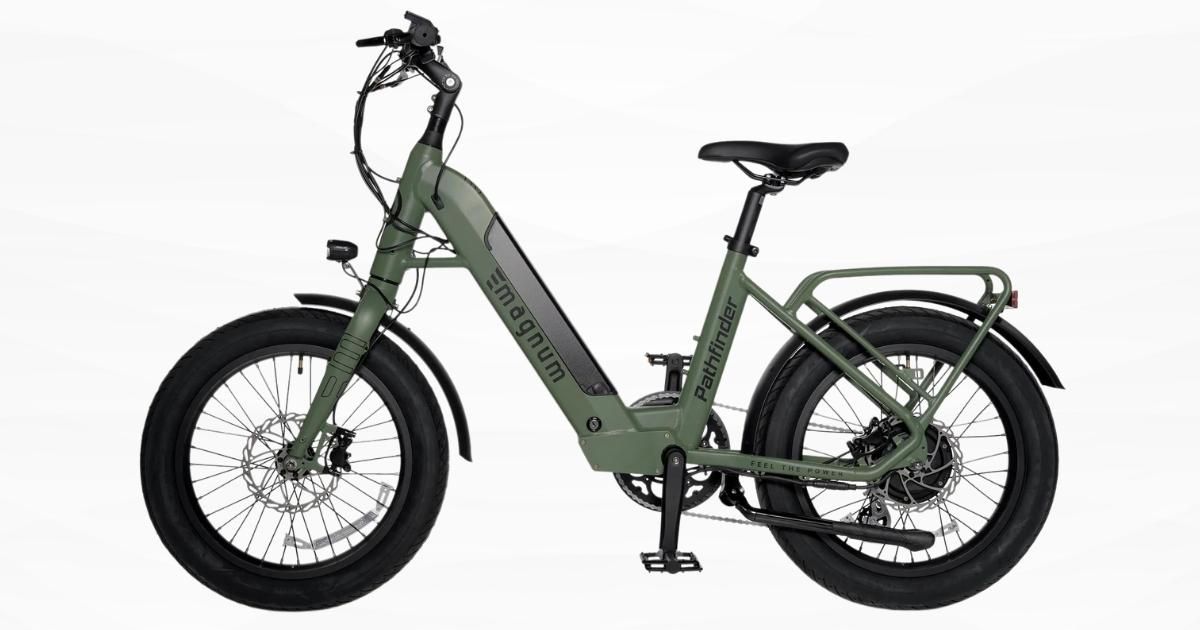 ---
6 Reasons To Buy Magnum Pathfinder 500
Unisex step-through frame
Very easy to approach due to the small wheel size
Compact display panel and display accessories
Family-friendly ride
Bright integrated lights
Excellent weight distribution
3 Reasons Not To Buy Magnum Pathfinder 500
Battery lock challenging to operate
Is heavy compared to compact bikes
Takes six hours to charge
---
Bottom Line
Magnum Pathfinder is a functional and well-equipped electronic bike. It comes with a 500-watt battery, pedal assist, throttle function, and front and rear lights. The USB port at the bottom of the battery comes in very handy as you can use it to charge any devices
Reviews
Reviews of the Magnum Pathfinder 500
Magnum Pathfinder 500W Review - Publishing Team
While only available in one frame size, the extra long 390mm seat post and adjustable angle 0-90 degree stem provide a comfortable fit for a wide range of riders.