Magnum Peak T5
Updated: September, 2023
I have always been a fan of exploring the great outdoors, and when I came across the Magnum Peak T5 eBike, I knew I had to give it a try. As a 28-year-old reviewer for Ride Review, I have had the opportunity to test out a wide range of electric bikes, but none have quite matched the performance and features of the Peak T5. One of the standout features of this eBike is its powerful 15Ah battery. With an extended range of up to 50 miles on a single charge, I was able to embark on long adventures without worrying about running out of power. Plus, the battery charges fully in just seven and a half hours, allowing for quick turnaround times between rides. The Magnum Peak T5 is equipped with a torque-sensing pedal assist, which makes riding the bike feel effortless. Whether I was cruising uphill or maneuvering through tricky off-road trails, the pedal assist provided just the right amount of power, allowing me to focus on enjoying the ride. Speaking of off-road trails, the large tires on this eBike offer exceptional comfort and balance. I never had to worry about losing control, even on rough terrain. Additionally, the quality front and rear hydraulic brakes provided reliable stopping power in all weather conditions, giving me peace of mind during my outdoor adventures. The bike's suspension fork with 120mm of travel further enhances its off-road capabilities. It absorbs bumps and shocks, ensuring a smooth and comfortable ride regardless of the terrain. Paired with the 11 gears on this bike, I had the flexibility to tackle any kind of trip, whether it was a leisurely ride through the city or an adrenaline-pumping mountain trail. I appreciated the attention to detail that Magnum put into the Peak T5's design. The illuminated display attached to the handlebars allowed me to easily see all the important information about my ride, such as speed and battery level. The bike also comes with a front light for added visibility, and while I would have liked to see a rear light included as well, it's a minor inconvenience that can be easily remedied with an aftermarket purchase. Lastly, the Selle Royal Essenza+ saddle provided excellent comfort, allowing me to ride for extended periods without any discomfort. Even on rough terrain, I never felt any unnecessary strain on my backside, which is a rare find in an eBike. While there are a few downsides to consider, such as the lack of multiple frame sizes and a missing rear light, I believe that the Magnum Peak T5 offers an excellent riding experience overall. The positive reviews from other riders cannot be ignored, with many praising the bike's pedal assist functionality and overall performance. If you're looking for an eBike that can handle both city streets and off-road trails with ease, the Magnum Peak T5 is definitely worth considering.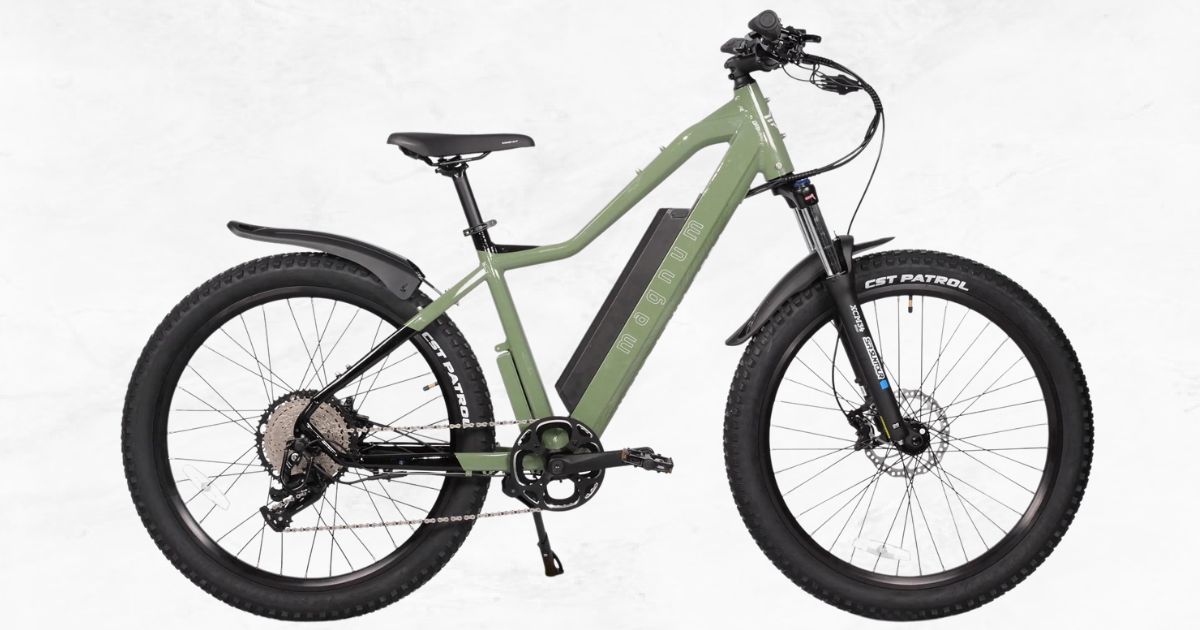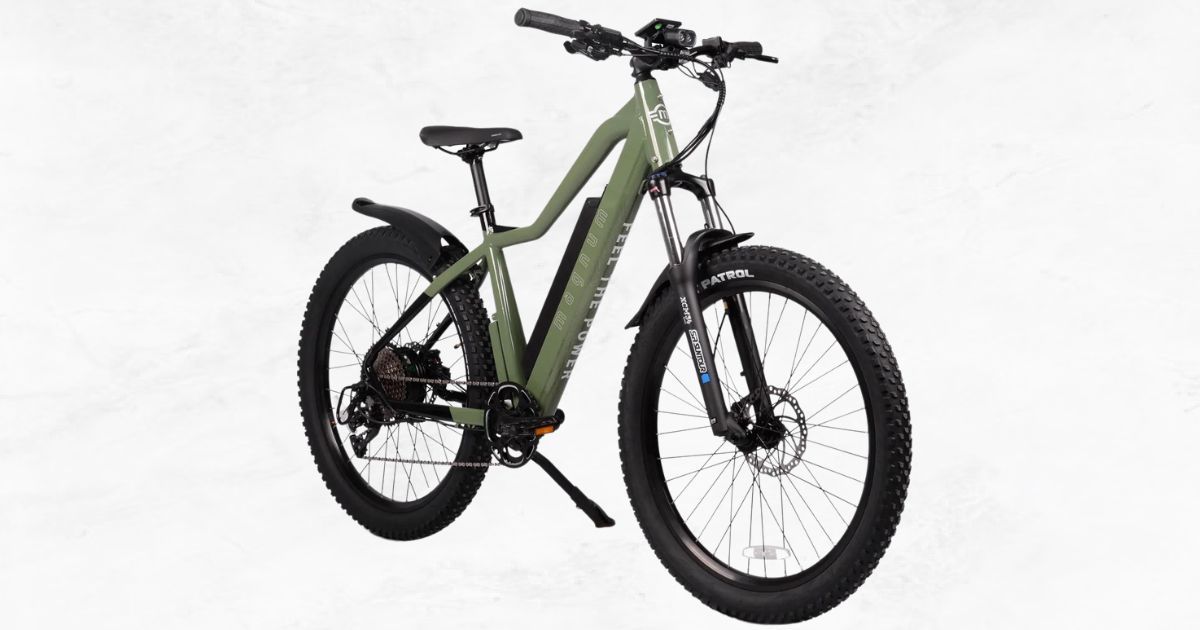 ---
10 Reasons to Buy the Peak T5
The bike is available in four colors: forest, gray, tan, and blue.
The bike's 15Ah battery offers an extended range of up to 50 miles, whereas it takes only seven and a half hours to charge fully.
A torque-sensing pedal assist on this bike makes riding it as effortless as possible.
The large tires make the bike very comfortable while offering greater balance when riding.
The quality front and rear hydraulic brakes allow controlled stopping on all kinds of terrain and in all weather conditions.
The bike is great for off-road riding due to the quality suspension fork that comes with 120mm of travel.
There are 11 gears on this bike, which is more than enough for all kinds of trips.
The illuminated display attached to the handlebars allows you to see all details regarding your bike journey.
The bike has a front light, whereas you can add a rear light if you wish.
The Selle Royal Essenza+ saddle offers excellent comfort when riding on all kinds of terrain.
3 Reasons Not to Buy the Peak T5
There is only one frame size available.
There is no rear light included with the bike.
This bike should have cushier tires to make it more comfortable on off-road trails.
---
Bottom Line
Magnum has never come out with a bad design or an electric bike that does not have a ton of great features. This Magnum Peak e-bike confirms that yet again – the Peak T5 is affordable, feature-packed, and excellent for riding on off-road trails, around the city, or anywhere else you would like.
Reviews
Reviews of the Magnum Peak T5
Magnum Peak T5 -
"The pedal assist feels good, it feels like it is a torque sensor, having that sensitivity on pedal assist certainly is an advantage when engaging the power off-road,"